Ina from My Nail Polish Online tagged me with the Kreativ Blogger Award. Thank you sweetheart!


As a part of the award, I had to tell you 10 things about myself. I've been tagged with these kinds of tags before, so I'll see how far I can come with 10 things about myself, just search on the right to see more tags and facts about me ;) So, here they are:

1. I'm only 18 years old, when I told this in my birthday post a lot of people told me they thought I was way older haha. Maybe I should share more about myself rather than just my nails? :)

2+3. Eventhough I'm allergic to cats (hair! not to the sweet little animals), I have a cat myself and yes, I get burning eyes etc. when I'm around her. Wow, how much I do to be with animals haha. But I barely see my cat, cause she lives with my dad and stephmom, so this means that my parents are divorced. (fact #3!) I do see my cutiepie dog Pino every day. She's the sweetest and sits down and looks innocent when I say "be pretty!" So cute!

4. I have to say it again: I used to bite my nails so badly. But then I decided it had to stop and I used to reward myself with a bottle of polish every non-biting month I finished. (Addiction began!)

5. I'm addicted to the perfume Escada Pacific Paradise, it's a scent that reminds me of so many good things and I get such a good feeling when I smell it. Unfortunately it's discontinued, but there are a couple girls on MUA (MakeUpAlley.com) that still have it up for swap :) It's way too expensive on Ebay.

6. Doing my nails is kind of a therapy for me. I can focus on my mani and nothing more than just my mani. Besides from that my mani needs to change every couple days cause of the tipwear, I really feel like I have to do my nails after a while.

7. I've been struggling with eye contacts for about 5 years now. My eyes are so bad, I have +7,5 on both eyes and a cylinder and wet tears. So now you're thinking: "Ehm, all tears are wet" You're wrong :P you can also have "fat" tears. (eye doctor babble :P). Which means in simple English that wearing soft contacts couldn't work for me because I wouldn't be able to see anything, but my eyes get inflamed like all the time from wearing hard contacts.
I just don't have a face for glasses and my eye lashes are too long to wear make-up with glasses, blinking once makes my glasses look like a dirtbike. So the stubborn me went on and on and after
5 years, they finally let me try soft contacts anyway and now it all works! Yay! So now I can wear my billion layers (but not trashy looking) of mascara again woop woop. (Long fact!)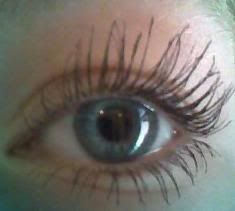 Crappy bonus pic of my taken-a-minute-ago eye + clumped mascara after a long day

8. I'm (nail polish, duh) shoe, ring, necklace, bracelet, legging and very much big-winter-scarf addicted. I just threw away 8 pairs of shoes and my room is still overfloating. In the unpredictive weather of the Netherlands, it's always nice to have scarves. And the feeling of hiding your face in a big woolen scarf feels so good, especially when it's one super soft made by my granny scarf, which I somehow lost! I need to ask for a new one.

9. I have more untried than tried polishes, shame on me. I should set up a blogsale right? But I can't get rid of them..

10. As you might have seen in my swatches, I am super pale. I'm almost shine-through haha. But I kinda like it. I don't get how everybody needs to be super tanned all the time and how people can spend hours and hours of baking in the sun. Go and be tanned now, how about the wrinkles in a couple years? And I have a billion freckles/birthmarks. My boyfriend even called me a Dalmatian a couple days ago haha.
Very very overlighted (and 2 years old) picture to show how pale I am.
Eek! I'm posting a picture of myself! .

Wow, I managed to come up with 10 facts about myself!

And now I have to tag 10 other bloggers with this award, but there are too many blogs I like! So I decided to tag 10 blogs that are on top of my blogroll that caught my eye.

1. http://ulmiel.blogspot.com
2. http://deucebeauties.blogspot.com
3. http://www.fashionpolish.com
4. http://saintbellabeauty.blogspot.com
5. http://rastalovenails.blogspot.com/
6. http://lifeandpolish.blogspot.com/
7. http://sillysilsil.blogspot.com
8. http://emilysnailfiles.blogspot.com/
9. http://beminery.blogspot.com/
10. http://www.rightonthenail.com

I'm proud of you if you really took the time to read this all. Thank you :)